We would like to introduce you to our exclusive swinger mansion and inform you about our erotic holiday offer. We are an attractive German couple, called Matthias and Stefanie, and we offer erotic holidays for couples and singles at the Costa Almeria in Spain. The 40 hectare area is located near the nudist urbanization "Vera Playa" in the province of Almeria. Our small hotel is set lonely and alone on a mountain and offers you a wide range of opportunities to celebrate your swinger lifestyle in a dignified ambience during your holidays. We have created a refuge of lust on our spacious property, where guests can live out their erotic fantasies, sexual inclinations and preferred varieties openly and without restrictions. In mildest climate in Europe with over 320 sunny day per year, the extensive, not overlooked outside area with a large pool, various sun terraces and the Mediterranean garden invites to relax, naked sunbathing and extensive playing. Our swinger paradise offers you a wide range of play options to celebrate your lust and sexuality as a couple or together with other like-minded people. Our exclusive holiday domicile is open all year round!
With our exclusive holiday offer, we address swingers and liberal nudists, both couples and female and male singles. We have now been successful on the market for 12 years and have built up an exclusive circle of international regular guests during this time. Many of these guests from all over the world appreciate the private, very intimate atmosphere of our mansion, the diverse play options and the personal contact with us as hosts and play partners.
We ourselves have been active in the international swinger lifestyle and in the BDSM scene for many years and not only see ourselves in the role of hosts, but also like to live out our erotic fantasies, sexual desire and excessive passion with the guests. In addition to style and class, we value a well-groomed appearance and expect cultivated manners.
Beginners are always welcome! In addition to experienced swingers, we also have many newcomers as guests every season. To get them started, we offer special seminars for newbies, introducing them to the fascinating world of the swinger lifestyle, familiarizing them with the basic rules and providing assistance with practical implementation. For the first experiences, we are happy to take beginners by the hand on request…
With many years of experience as a management consultant in international tourism, we have developed this special holiday concept, which is specifically tailored to the individual demands and erotic desires of the upscale international audience. Our exclusive holiday offer is rounded off by regular events, theme weeks and weekends, specials, organized day trips and services.
Our swingers' paradise has a 15×10 m pool with loungers, beds and love shells and a spacious, Mediterranean pleasure garden. The property is not overlooked and offers guests the opportunity to relax in an erotic atmosphere and exclusive ambience and to live out their lust freely and spontaneously at any time.
We are an attractive couple, happily married and have been living in Spain for 17 years now. We ourselves have been active in the international swinger scene for many years and not only see ourselves in the role of hosts, but also like to live out our erotic fantasies, sexual desire and excessive passion with the guests.
Our next theme weeks and specials...
From the 22nd to 28th of January 2024 we talk to all fetish lovers. Be it rubber, PVC or leather, be it fully body suit, enjoy your fetish with likeminded guests.
From the 19th to 25th of February 2024 we address couples and singles who want to live out their dominance or their submissive streak at a high level.
From the 18th to 24th of March 2024 we are again putting together an entertaining erotic program for our guests.
From the 25th March to 1st of April 2024 we have arranged again an exclusive arrangement with many culinary specialties and erotic highlights for our international guests.
The province of Almeria is the warmest and sunniest region in mainland Europe with the highest number of hours of sunshine (3,035 hours/year) and is a nature lover's paradise. In addition to its romantic fishing villages, the region has real treasures to offer, such as the Cabo de Gata-Níjar Nature Park, an underwater and landscape paradise with beautiful bays and fine, golden beaches or the Tabernas desert. The city of Granada with the world-famous sight "Alhambra" is just a 2-hour drive from our property.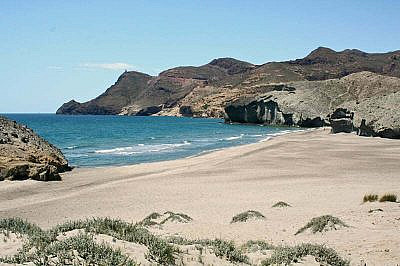 Before making a booking, please find out about our prices and terms and conditions and send us a short inquiry by e-mail in advance to ensure that your desired travel period is available. Alternatively, we are always at your disposal in our info chat. The minimum stay on our property is 3 nights.
We look forward to hopefully welcoming you soon!